I didn't dress up this Halloween. As a creative person, I feel it my duty to have a mind-blowing costume. But I was too lazy to think about what it would be and even lazier to make it. The tradition is not dead, but it not going to be annual like it was until the end of college. Some of my costume highlights from the past: knight, authentic bearded and dirt smeared hobo, obese man in suit, obese rain gutter salesman, marathon runner in short shorts, sultry 40s female socialite. In general, there doesn't seem to much innovation in costumes overall as people grow up. The creative people have more resources to work with and craft more elaborate duds. The average man's costume becomes more creative and varied, but the average woman's often becomes more provocative. Ariel the Little Mermaid ages into to sexy Ariel the Little Merwhore; cute kittens become sultry kittens; pious French maids become a little naughty. I don't know why people have to wait for Halloween for cosplay, but if we could wear costumes year round daily life wouldn't be as predictable and serious. But don't we all wear masks…metaphorically. Think about it.
There weren't as many costumed people at work as I expected, but there was a large party for employees and their families. Each region of the building was decorated differently and a footpath marked a "trick-or-treating" route between areas. Kids were out in full force: gorging on candy, vomiting in a moon bounce installed in the atrium, getting balloon animals made, getting scared by adult costumes, waddling awestruck, crying and over-stimulated between stations. In the thick of chaos, the Reptile Man showcased his charges: a wide variety of snakes, tortoises, and lizards. This was concurrent to dogs shitting around the building, my coworker and I struggling valiantly to appear interesting and witty while being filmed for a video to be aired at an advertising conference, and actual attempts at work.
I would have taken photos of all the cute kids in costumes, but that would have seemed both trite and creepy.
A few photos:


Tortoise and girl.


Moon bounce. I tried a few forward flips but was unable to land on my feet.


Me and the Bermese Python that I named "Smelly."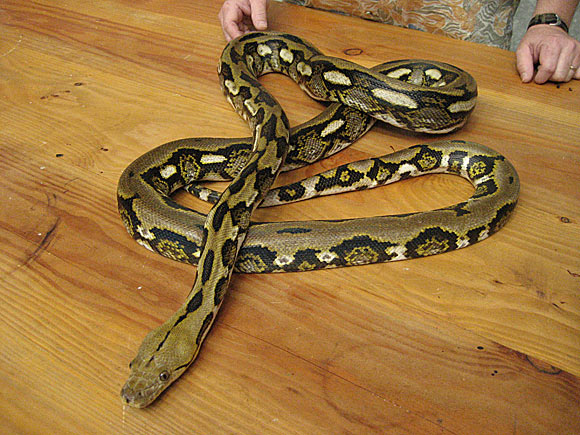 Constrictor of some sort.


Cobra. De-venimized, but not de-fanged. This cobra would hiss and chase his handler while flaring it's neck. The gaze of the snake could be fixed on the trainer's hand, so that it followed it's movement precisely. Every thing about this snake was unreal and robotic and cat-like.


Baby alligator.


Gnome Chomsky between his Halloween lectures.


Later today: A tasty morsel shared for dinner. I rearranged my studio to accommodate a small dining area. It's just the right size for two small people to share a small meal. Or for one person to consume a single, regularly-sized meal by himself.
Phew. Now I fly off to Los Angeles.