Q: Quick, what kind of trip rhymes with "hell hussy gin juicing skip flu diva peach?"
A: Why, a JEALOUSY INDUCING TRIP TO THE BEACH is what kind of trip!
This weekend J. and I went on a trip to the misty Oregon coast. A meandering route took us through rural roads and out to Newport Beach. We spent the first night in a hotel with a great room with a view and fireplace, weird staff, and lackluster free breakfast. Sunday, we drove northward to spend the night at a beach house in Neskowin. Exactly one year ago, a group and I stayed at the very same house, detailed here. J. was lucky enough to get the house through Wednesday. Unfortunately, I had to come back on Monday morning.
A few photos with captions below:


Factory in the middle of nowhere.


Bull in the field near Nashville, OR.


Nearly hidden lone tombstone at the only street intersection in Nashville, OR. It's uncertain why this man was buried alone by the road.


A deserted trailer marking a bus stop at the entrance to a large lot full of abandoned motor homes and trailers. We wanted to wander around the scrap yard, but it was private property guarded by a creepy occupied house.


Boat in the Newport marina.


Bridge crossing into Newport.


J. enjoying misty view and ocean roar from the hotel balcony.


J. standing on the surf eroded igneous coast. Perfect tide pool possibilities, unrealized.


Wave.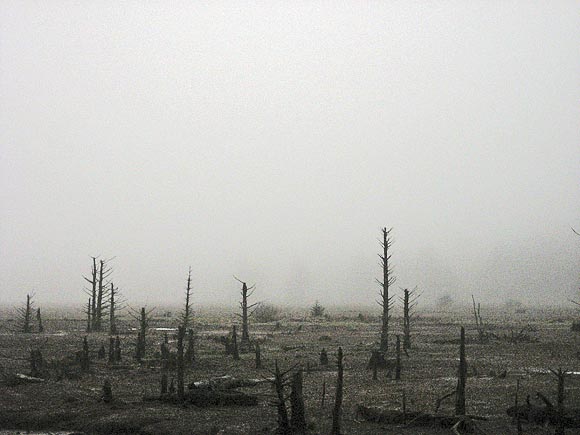 An eery view of protected wetlands along the highway near Lincoln City.


The grassy beach in Lincoln City.


Sea foam shoes.


Large fish head, about the size of a cantaloupe.


A friend and his son ascending an impossibly steep sandbank in Lincoln City.


Trees at the top of the sand.


J. and I.


"Dill" Island in all its storm-ravaged glory.
Peace out.