Three Days in Bustling Mumbai, India
Note: I will try to keep brief what would otherwise be a sprawling and verbose entry.
Our trip to Mumbai, India began with a terrifying and exhausting 16 hour overnight bus ride from Udairpur. The bus was an older Volvo air conditioned semi-sleeper, meaning the seats reclined but would never be considered beds. During the daylight hours the ride was pleasant enough, but as sun fell things got scarier. The winding roads to lower elevation were taken with speedy abandon. At many points, the bus leaned so much I feared it would tip over. The driver passed sleepy cargo trucks with honks and inches to spare. I drifted off to sleep a few times only to be awoken by dreams of bus crashes or the rumble and violent bumps of a bad stretch of road. The bus stopped a few times for potty and snack breaks. Never before have I smelled such a strong concentration of pee. The men's stalls were like standing at the precipice to hell.
Day One
I must have slept a little, because I awoke as we entered the outskirts of Mumbai. Like Los Angeles, the edge of the city was sprawling and undefined. But as my eyes fluttered open I saw we were there: slums, pollution, modern buildings, density, wealth. The highway was in shambles and the bus bounded and rumbled over the road dramatically to our stop. We hopped in an old taxi and headed to find a guesthouse.
It was early morning. We had the driver drop us off at a landmark in the Colaba area called Gateway of India. This arch was built by the British, and it stands under renovation at the water's edge of Mumbai Harbor. The first places we looked were dumps. We eventually found the cheapest room in a recommended guest house called Bentley's. We are on the ground floor on the backside of the building, separate from all other rooms and next to the kitchen. The room is a pricey 1095Rs($23) a night, but considering the musky 500Rs rooms we looked at had shared bathrooms and looked to be in a converted 1940s cubicle office, our new find was worth it. Plus, it had complimentary tea/coffee and toast.
First, we took showers and a nap. Then we went in search of food and a Bollywood movie.


Gateway of India.


Mumbai taxis are everywhere. There are 50,000 of them in the city, all based on a 1950s Fiat.


Unlike the rest of India, the taxis here are metered. The device is mounted on the exterior and functions as a for hire indicator as well. The meter can be read through the window. As they are so old, the fare is calculated by multiplying the reading by about 30. Inflation at work.


Two delicious, plate sized dosas from a wonderful restaurant in Colaba called Laxmi Villas.


What a load of business.


We sat and watched impromptu games of cricket in Oval Maidan Park until shoe shine and drum selling kids started annoying us.


Detail of the High Court building. Castle-like. We checked our cameras and walked around the halls, peeking into trials and brushing robes with judges.


Sidewalk used book seller displays his wares under a shade tarp. There were used books for sale all over town, as well as all other kinds of merchandise.


Dhaba-Wallas at work. The city has 5,000 such people that deliver lunches using a color and pattern coded system of containers. Lunch boxes are picked up from homes and restaurants, sent to a sorting facility, and delivered by hand around town. Each day, 200,000 meals make it to their intended stomachs. Amazing.
Mumbai was the first cosmopolitan feeling city we've been in India. It's a cross between London, Los Angeles, and India. All over was rushing traffic, pedestrians, and sidewalk hubbub. Numerous coffee shops and a wide variety of good restaurants are supplemented by high turnover street foods. There are a lot of cars in the town, mostly taxis, and barely any auto rickshaws or motorbikes. Fancy cars are not an uncommon sight. If it weren't for the garbage, noise, and masses of Indians it could be any other country's metropolis.
We bought two, 100Rs($2) balcony tickets to a popular Bollywood release called Hello. Spoiler alert: the movie sucks. It's based on the popular book One Night @ The Call Center, but it took many maddening liberties. My brain has a hard time processing how weird and bad this movie was, but I'll try.
Hello is a story within a story. It starts with a poppy shirtless rock-styled song and dance number by Bollywood star Salman Khan. Afterwards, as he's waiting for his chopper. A woman (who turns out to be an angel) tells him the story of what happened to a group of sophomoric idiots one night at a call center. Basically: they dilly dally, flirt, have personal problems, and get a call from God on a Nokia phone.
The priorities and purpose of the film was all over the map. The mood went from joking to serious and back again without any reason. A man would crack a joke and then some lady would find out her husband was having an affair, or a man would get an email from his son saying he never wanted to see him, etc. All of these seemingly profound problems were treated as tear jerkers but had no bearing on the plot. There was a sitting on the shoulder type devil version of the protagonist (with imperfect compositing). There were a few song and dance numbers that didn't integrate. Love story. The call center was run by a sycophantic manager who bowed to his Boston-based boss (who had an British accent). All references to America painted us as idiots. Occasionally there were vignettes showing Americans calling with various problems. The people cast were so obviously non-American as to be laughable. They were all white, but their English was so bad it sounded like a bunch of retarded Estonian hookers. The movie was mostly in Hindi, but lots of lines were in English also. The dialogue flowed between both languages and greatly helped comprehension. It felt like I had a babbelfish in my ear. Not that there was anything worth understanding. The characters didn't grow and their goals remained selfish. The call from God was in Hindi, so I don't know what he said. But it was tacked on too late to matter anyway. It was a harsh movie, and poorly done. It ended with the protagonist marrying the woman you thought he was going to lose to a rich man (who worked for Microsoft). The boyish, now successful, protagonist presents her with a new, gleaming white Honda SUV. They embrace. Dreams come true after all.
I hope not all Bollywood films are this bad.
Day Two
Our second day in Mumbai was mostly a hot, 7 hour death march across town. I had wanted to see the Parsi Tower of Silence, a temple where people of the Parsi faith leave their dead to get eaten by vultures. Rather than take a taxi or train, we walked. And walked. For some reason, I always find myself leading J. on these epic, uncomfortable walks.
We started in Colaba and ended up as far north as Haji Ali's Mosque. The streets were busy, the beach was hot, the walk was long. By lunch time, I was soaked with sweat. By evening, I had visible salt deposits over my shirt. We had seen and sweated over a lot of town. It was a good day. The guard wouldn't let us in the Parsi grounds. I should have brought my vulture costume with me.


Mumbai stock exchange building. People were outside watching the marque.


All over town are fresh sugar cane juice stands. They have cane all around them and extract the juice on the spot. A half glass is 4Rs and surprisingly green and refreshing.


Food delivery scooters.


Many of the food stalls and some of the restaurants get clean water delivered via truck or these hand carts.


Scooter and sidecar.


Street.


Man cracking nuts on the street.


Man delivering sugar cane with an ox driven cart.


Smart cards available from inside this black void near the train station.


The beautiful and massive Victoria Terminus building. Inside were swarms of people coming to work during the morning rush hour.


Across the street was another old building.


Men with typewriters on the street. There were six of them, all filling out forms. WTF?


Mosque in the middle of the road.


We cut west to walk along the water. The Back Bay sea wall and much of that part of town is built on reclaimed land. There was a little breeze, but the sun was blinding.


The wall was lined with massive concrete jacks.


All over town are police barricades.


Beach side buildings.


Chowpatty Seaface Beach. Chowpatty sounds like something Spongebob would eat.


Unclaimed coconuts on the sidewalk.


Many of the old apartments have great signs. This isn't an example.


Two men planing wood on an overpass.


Man living under a tarp attached to a building.


Two men fixing a phone junction.


Amazing abandoned mansion in the shadows of a new highrise being built.


Old building.


Towers.
We took a lunch break at an AC beach side restaurant called Creme Centre. It had the atmosphere of L.A. The food was pricier than normal, but great. I got a chickpea curry and masala paratha. J. got a vegetable sandwich. The bathrooms were sparkling clean.


Old building with an elevator shaft slapped onto the front.


Windows of a massive apartment building overlooking the ocean.


The walkway leading to Haji Ali's Mosque. It's only passable during low tide. Vendors, beggars, birds and goats line the walkway.


Boats at low tide.


Crows.


The gates to the mosque.


Inside.


Garbage accumulated on the edge of the walkway.


As the sun was fading, we hoofed it back to Chowpatty Seaface just in time to watch it set. Those not stuck in horrendous rush hour traffic came out to watch as well.


Family.


The poultry of Chowpatty: chickens and turkey.


Man and buildings at sunset.


Another family.
We tried eating dinner at the stalls on the beach, but the proprietors were too intense for our business. Nearby, a boring song and dance performance was going on. We were tired, so we got a cab home.
Day Three
Day three was mellow. We ate two breakfasts: one at the hotel, and another at a good cafe patisserie nearby. Good coffee, cinnamon roll and croissant. Then we got a cab to Churchgate Station and bought two round trip tickets(16Rs for both, cheap.) for the slow local train. Our stop was Mahalaxmi Station to look at the Dhobi Ghats. Luckily, the morning rush was going in the opposite direction so the train was mostly empty.


Workers getting off the train at Churchgate Station.


The ceiling of the train car. It felt a little like a slaughterhouse.
There was a great view of the Dhobi Ghat from the overpass near Mahalaxmi Station. For 136 years, much of Mumbai's clothing has been beaten clean by hundreds of people using a thousand washing troughs. All over the neighborhood clothes are hanging to dry. It's an amazing sight.


Dhobi Ghat.


Clothes and people.


The washing troughs.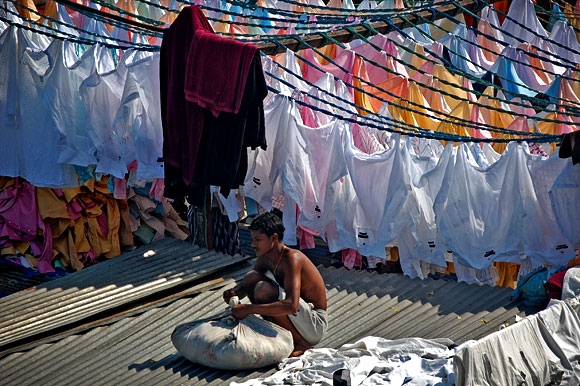 Clothes drying on a roof. How they organize all the clothes is a mystery to me.


Tracks at Mahalaxmi Station.


Mail getting loaded and unloaded at Mumbai Central Station.


All of the trucks in India have some version of this written on the back. Horn Okay Please. In America if you honk your horn, you're an jerk. In India, you're just using it for it's intended purpose.


Grilled vegetable sandwiches on the street. 12Rs each. Pretty good, especially with green chili sauce.


Pan maker's stand.
The train home was crowded like a cattle car. Everyone was staring at J. I drew my gun and fired 30 warning shots into the air. They stopped looking at her.
For dinner, we ate a Lonely Planet recommended place in Colaba called Churchhill's Cafe. I have no idea what those editors were smoking; the place sucked hardcore. We went in hopes of some filling Western food, but our burgers had patties so weird they must have been vegetarian. The fries were lackluster and the atmosphere dreary. Afterward, we cleaned our palates at the breakfast place. Excellent brownies.
One the walk home, I was offered hash for the 6th time in three days. I think the same guy has offered it twice. He mentions it almost at conversational level. I ignore him. I've never done drugs, but I'd have to be a bigger fool to try it in India. There's a 10 year penalty if you're caught with anything. I wanted to tell the police there were drug dealers on Colaba Causeway, but though better of it.
As sun set over the water, I felt mostly satisfied with my short time in Mumbai. I knew I missed a lot of the city, but I've missed a lot of India too. In the morning, we were to begin a 12 hour train to the costal area of Goa.


Sunset over Mumbai Harbor.
13 Comments
Leave a Comment