Last Days in Shanghai, China
On Thursday morning, J. and I woke, grabbed our bags, and walked down the street. We waited at a designated intersection. At nine, we were to meet one of our new hosts at that corner. For Thursday and Friday night, we were staying with strangers in their apartment. For free. This arrangement was through a site called couchsurfing.com. The service links travelers who need a place to stay with those with a place to offer. The network is world-wide. As weird as it sounds, it's actually pretty popular. We've met many people on our trip who have had great things to say about couch surfing. We decided to try it once in Shanghai.
The couple we met were industrial designers from Germany and Sweden who had been living in Shanghai for 3 years. Their apartment was on the 8th floor of a 1920s buildings in the French Concession. They were the only foreigners in the building; the rest were Chinese over the age of 50. Their floor used to be a single apartment of the builder but was split into three units a few decades ago. While the other units were in traditional dank Chinese style (with a sooty shared kitchen for the all the other units to use), their unit had been remodeled to be bright and airy. The east facing balcony offered a wonderful view of the city. Their furniture was custom designed. The place was perfectly decorated.
We dropped our bags on the floor and chatted for a bit before they had to leave for work. They gave us a key and we all walked out together. It was as unusual feeling to leave my belongings in an apartment of people I hardly knew as it it was to have a key to said apartment.
J. and I had one last delicious breakfast at Closed Door below Quintet. Scrummy!
Unfortunately, their coffee machine was out of order. For caffeine's sake, we parked ourselves on the second floor of a cafe and surfed the net.


The last free breakfast.
The weather outside was frightful: cold, blustery and dusty. A moist haze made being indoors A-Okay. From the coffee shop, we scuttled through the falling leaves to our favorite lunch place. Our bellies became stuffed, and our feet began to itch. We set our sights on a long walk to the "old city" area. But by the time we hit the streets, there was only two hours of daylight left. For some reason, the sun seems like it sets around 4PM.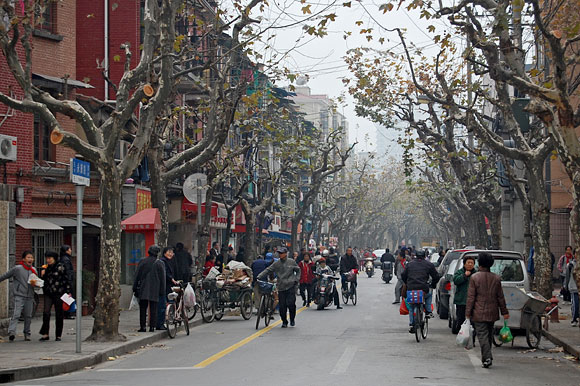 Tree lined shopping street.


Town houses.


Grimy street fryer.


Steam billowing from a dumpling shop.


Old couple riding two up on a mobility scooter. It must have been going 2mph at most.


Mailboxes.


Dead ducks and stoic chef.


Various meats for sale.


Fish and chickens.


Man making a lot of pot stickers.


Church next to subway construction.


Painting on wall.


One of many fruit shops. They all look about the same.


Old homes along the Wusong River near Puji Bridge.
By the time we made it to the edge of the old city, we were tired. It was also dark, windy, and very cold. Dust was getting blown into our eyes and walking was no longer fun. We searched for an insect market, but couldn't find it. We decided to hop on the subway and head north. At 7:30, we were to meet at our hosts' office and walk over to attend a presentation mixing design, green living, and boring. We got to their office far too early, so we walked around in search of snacks. Mission accomplished, we sat at a bus stop, ate nuts, and watched people looking confused as they biked by.
The event had hundreds of well-dressed, cool looking, arty types in attendance. Everyone seemed more interested in meeting each other than listening. A Chinese policeman lingered, I assume, to make sure things didn't get political.
Our gracious hosts gave us a ride home. We talked for a bit, then parted to sleep. They on their bed, we on their couch. The living room had awesome Japanese kerosene space heaters that pumped out BTUs like nobody's business.
We slept into Friday morning. When we woke, they had already left for work.
The weather was dramatically better. While it was cold as a witch's tit, the air was also as clear as a warlock's tit. That's pretty cold and clear. We were feeling tired, but it wouldn't be a day in China without us going on a death march. We set our sights on the old city again, but this time took a wonderful detour to Lupu Bridge.


The maid made me put on the house slippers. I didn't know how to explain they weren't mine.


View out our host's apartment window looking north.


The dark entrance to their building.


Lunch greens in garlic butter.


A weird favorite dessert: shaved ice tower with two kinds of beans, sweetened condensed milk, tapioca balls, and various cuts of fruit. Odd but good.


West meets east.


Crane lowering tunnel cutting blade into a subway construction site.


Outdoor phones.


Meat and shoes hanging outside a second story window.


Hearts and tongues.


Construction site doors.


Crane over subway construction.


Massive complex getting build in Dapuqiao area.


Endless, massive apartment block.


Small mall.


J.'s saddle bags.


Holes in wall patched with brick.
Lupu bridge is massive. On both sides were old looking buildings with elevators to the top. For an expensive 68RMB($10) per person, you could take and elevator up and walk up stairs on the arches of the fricken bridge to an amazing 360 degree view of Shanghai. The air was too clear to pass this up, so we ascended. It was so cold, but so amazing. My face was numb from the wind, but I couldn't help smiling. Manhattan has nothing on this metropolis. Shanghai is unbelievably vast.


Overpass leading up to Lupu Bridge.


J. climbing up the arch stairs.


Pudong in the distance.


Barges.


Older residential area.


It's called Luban Road, but it's actually more of a highway.


Construction of the keystone to the 2010 World Expo: the Pavilion.


Nanpu Bridge and smokestack.


Endless towers. Crazy.


The industrial and sparser expanses of the southeastern side of Shanghai.


Barge with sand passing under the bridge.


Me and Shanghai. I tried very hard to not look cold.
It was a memorable view. Unfortunately, I caught a cold.
After dinner, we met our friends for dessert and drinks. We couldn't hail a cab since it was evening rush hour, so we took the subway. The Italian restaurant was hard to find, so we went into a hotel and asked for directions. The receptionist gestured to the left, so we walked further down the street. Still not finding the place, we circled back and realized that the restaurant was inside the hotel. The receptionist giggled as we walked back in.
Afterward, we went for drinks at a Serbian bar. It was full of foreigners. Our table had a Brit, three French, a German, Swede, and us Americans. Conversation was smooth.
We retired to the apartment and chatted until 1:40 in the morning. Our hosts had plenty of perspective on living in Asia. The G. had lived in Tokyo prior; K. in Tawain. I went to sleep with a greater understanding of what a life here would entail. I guess I'm already an expatriate in spirit, even if I haven't committed to it yet.
Time to leave Shanghai…for now?
One Comment
Leave a Comment