First Weekend in Shanghai
Today marked the end of our first week in Shanghai. It has been one of the longest feeling weeks I've ever had, for better and worse (but mostly for the better).
Until Thursday, our sleep schedule had been way out of whack. We'd crash around 8-9PM and wake pre sunrise. Each day felt like two days split into multiple eras: the morning hours in darkness and breakfast, the epic walking commute in the rain, the uncertain and new hours at work, the long journey home in the dark, and the evening hours of pure exhaustion before bed.
The weather has been wet and slightly chilly. The commute to work has suffered due to the weather, as walking for 50 minutes in drizzle and trying to keep my computer dry takes some of the fun out of it. As soon as the rain clears up, I'm going to start taking photos when I walk in the morning. I think until I get a bike, I'm content to walk one direction and take a taxi home. The taxi only costs about $2, and it saves a lot of time. Unfortunately, on raining nights there aren't any free cabs.
I went through some pains adjusting to both being in China and at work again, but now that I have it feels pretty awesome. There's just so much interesting stuff to see walking to work. I have a building of friendly new people to meet. J. and I are getting into a new routine of living together. I'm sure soon I'll be working like a dog, but it will be good for me.
I think the 6 months or so here will epic. It doesn't seem real that I live here.
On Friday, a friend from work had a going away dinner at a teppanyaki restaurant. There were 24 diners, split between two rooms. J. and I got to meet and converse with a lot of people that night, plus eat some excellent food. For 150RMB($21) each, a person was entitled to unlimited sushi, salads, beer, juice, saki, and meats, vegetables, and fish grilled on the broad teppan table. Delicious.
Afterward, the group moved to a private room on the roof of a crowded jazz bar. People were getting tipsy and smokey as we got tired, so we headed home around midnight. It was a fine evening.
This weekend, J. and I explored the town on foot.
Saturday:
On Saturday, we headed from our apartment to the old town area. For lunch, we tried some popular steamed dumplings that everyone was drinking out of with straws. It was good until we looked at the sign and saw that our meal was a "steamed dumpling with digestive juices and ovary of crad [sic]." Crad means crab, I assume. Our walk lasted 7 hours.


Man delivering pigeons on scooter.


Carts and motorbike lane signs.


Torn poster.


The neighborhood fish tank.


Cats getting fed cooked rice.


Metal wall.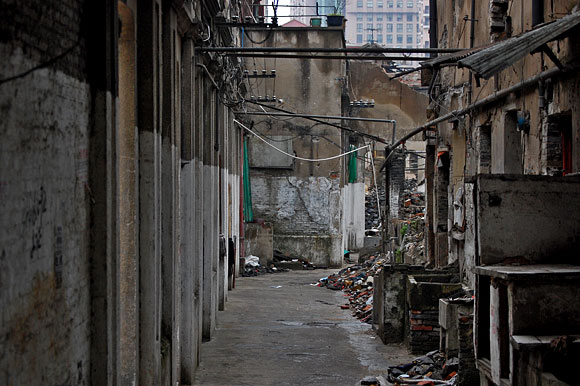 Partially destroyed buildings.


Lady looking for garbage and construction crewman.


A nice old door.


Rubble.


Torsos.


Construction wall.


Lady selling miscellaneous things via cart.


Old style Shanghai street.


Fish on the chopping block.


Two taxis.


Shoes hung to dry.


Bike leaning on brick wall.


Busy alley.


Outdoor sink covered with rags.


Bamboo in park.


Stairs without rail behind a food vendor.


Family crossing the street.


The dragon boat of the Huangpu River.


Men in alley.


Collecting cardboard.


Gas canisters and scooters, a safe combination.


Pole with safety stripes.


Beef ball soup with ox head.


Alley cooking.


Tissue on truck dash.


Makeshift garden in old cycle rickshaw.


Piling on cardboard.


The conjoined OK dogs.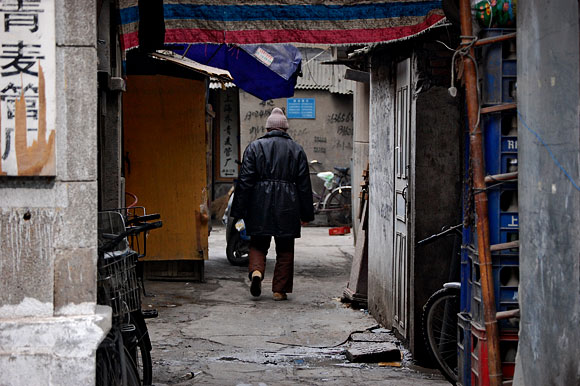 Old man walking home.


Cracking jokes at the vegetable stand in the middle of the street.


Ginger man didn't want his photo taken.


All over town, new cables are getting installed under the sidewalk.


Wire maintenance.


Shanghai style partially buried hydrants.


Bamboo clothes drying racks weighted down with blocks.


Gutted block of apartment building waiting to be demolished.


A rough patch of wall.
Sunday:
On Sunday, we took the subway to the giant Century Park in Pudong. We explored the park and then headed down Century Blvd. to all the famous skyscrapers. We checked out the lobby of the Grand Hyatt in the Jin Mao Tower and then got some lunch in the enormous and packed Super Brand Mall near Oriental Pearl Tower. Subway home. Total walking time: another 7 hours.


The Cosmo building.


J. standing amongst the new blossoms of Century Park.


White blossoms.


Blossom watching trio.


Century Park promenade.


A large group of people assembled for unclear reasons.


Ghetto style drive-by.


Girl readies gun.


Clown of the moon-bounce.


Walkway.


Packed on a pedal cart.


Willows weep towards water.


Pigeon infestation on the roof above their coop.


Unguarded boat.


Topiary musicians of unusual size.


A weird looking set of towers from the future.


Lanterns in a tree.


Looking down the walkway from the main entrance of Century Park.


The balls of the Science and Technology museum.


A battery of kites.


Sculpture.


Kite flyers.


Seafood restaurant sign.
The weekend's over. It's time to get ready for work.
7 Comments
Leave a Comment