Weekend at Zhongshan Park, Shanghai
This weekend was a dry one, you see. Lady and I decided to spend most our time outside, so we took subway line 4 to Zhongshan Park on the northwest side of town. Saturday was still a little chilly and overcast. I had to work in the early afternoon, so we only had time to explore the neighborhood and wander through the park and down towards my office. A block of old homes near Wusong Creek was getting demolished to make way for new high-rises. A flood wall was getting put in as well. Amongst the rubble, a few buildings were still standing. Residents carried on, walking down crumbling lanes and through debris, the fate of their homes evident all around. Near the river was a long, smelly building that seemed like a lounge/sewage dump for the crew of the blue barges parked alongside.
J. and I had brunch at a popular restaurant before parting company. I brainstormed with a coworker in a coffee shop for a few hours then went back to the office to pick up a bike. This light blue contraption with basket, bell, and rack on the back was given to me by a fellow leaving for India. I took my first ride home Saturday at dusk. I had trouble figuring out the flow of the bike lanes, and once a cop had to gesture for me to turn around. Some of the larger intersections were hairy, but overall it wasn't nearly as terrifying as I feared. A biker in Shanghai traffic is like a fish in a school. He must go with the flow and try not to bump into his brothers. What would have been a 50 minute walk was reduced to a 20 minute bike ride. Until I die, it will be a great efficiency.
Sunday was sunny. Zhongshan and the surrounding area were packed with people. Around the park was a well-developed shopping area of malls and restaurants. The sidewalks were a flowing mass of black-haired humanity. The park was bustling with people who fit into distinct groups: Old people congregating in covered areas to sing, families playing with kites and balls in the grassy area, strolling couples, the boat people, random old wanderers, foreigners with cameras, kite vendors, and a few wrinkled beggars.
J. and I did three long rounds of feather kicking then took breaks to people watch. Despite being in the beginning stages of feather mastery, we had a few good volleys to entertain the watching locals. Out of all the other people there, no one else was kickin' it. According to some, the feather was a passing fad of the 80s. To me, it's the basis for the rest of my life, a plumage to inspire zen coordination and physical achievement.
That afternoon we bought a wireless router, and then went to a Walmart-like store called Carrefour that took up two floors of a mall basement. The place was a madhouse. The produce isles were impassible, the meat area echoed with chopping cleavers, the milk maids hawked various brands, a militaristic sounding loudspeaker blared promotions, people were chattering, bumping into each other, food was falling off shelves, people were digging in bins. It was a frantic and fascinating time, but not an easy place to shop. We bought some essentials such as coffee, peanuts, bok choy, apples, milk, juice, and a beer. It was time to get out of the madness and head home.
Waiting for the subway, we had a halting conversation with the station attendant and a man waiting for the train.
Some photos of the weekend:


Blanket drying on wall.


Our apartment city.


Tubular mail box.


Clothes drying above sidewalk.


More drying clothes.


Bricks around a window.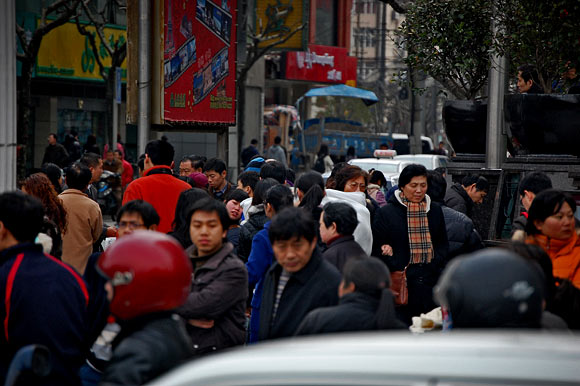 Busy sidewalks.


Screen saver.


Vines on a wall.


Out with the old and in with the new.


Saving old wooden doors.


Rubble.


Living amongst the rubble.


Man walking down the lane.


Hole in the floor.


Suitcase.


Construction wall.


Boat.


Old building being restored.


Kite stuck in a tree.


Bumper boat target fountain.


Singing lady.


The greenery of Zhongshan Park.


Father and son cannot steer to save a life.


Captain.


Boat traffic.


Happy passenger.


Man on the green.


Overcompensating?


Puff boy and stroller.


The feather!


Walking boy with girl toy.


Coloring with sand.


Riding on the rusty spinner.


Decorative cabbage.


Water writing.


Arched street.


Produce stand.


Street view.


Man and his clothes on the rooftop.


Steaming buns.


Mysterious man at the food market.


Smoke from a meat grill was filling the area.


Sweet drinks cooled with dry ice.


Bamboo scaffolding.


Monkey men on break.


More monkey men.


Busy intersection with elevated walkways.


Someone crossed the barrier.


Sack of food, pack of cigarettes.


Blue car of the silly style.


Motorbike parking.


Father and son watch progress.


Pipe on the sidewalk blocking driveway.


Lady walking.


Street near work in the French Concession.


The small parking lot of my work.


My desk area.


Window art.


The red monster that lives in the central stairwell amongst the astroturf meadow.
Week three of work begins…NOW!
2 Comments
Leave a Comment