Twenty-twelve: the year of the apocalypse. Since we are all dead, I write this blog digest from a smoldering Mac Mini perched precariously on fire and brimstone. It's the end of the year as I know it, and I feel fine.
But things got off to a rocky first world start: rainy weather, a dinged scooter, and a horrible work project. I had been thinking of quitting my job since the end of 2011, either taking a true around the world trip or a more modest three month version. But the horrible project ended earlier in the year than I feared, and another commercial promised a trip to Mexico City.
All was well, and an upheaving adventure was put on hold.
January: San Francisco
In January, I spent a lot of time fulfilling the rewards for all my Dordle Card Kickstarter backers. J and I let the process take over the living room for one weekend as we bundled, stuffed, and addressed envelopes to all over the world. I also got a head start on the custom Dordle images I had to make for the big spenders.


Piles of Dordle cards getting ready to be sorted and packed.


Our oyster mushrooms thriving on the kitchen table.
February: San Francisco
J and I went on numerous hikes nearby, and finally discovered the surviving part of Fisherman's Wharf that gave it its name. I finished and shipped the custom Dordle images and the last of the cards.


Stairs to troubled waters.


Some of the dumpster diving pelicans.
Later in the month, we spent a wonderful night at the East Brother Light Station B&B, courtesy of my uncle's wedding gift.


Looking back at the island, as our boat scoops us away.
March: San Francisco, New York
In March, J and I took an epic bike ride across the Golden Gate Bridge and to the Larkspur ferry terminal. It was one of the longest rides we had been on, but the boat ride back made it worth it.


Lime Point Lighthouse from above.
For work, I got to go to New York for two weeks. Besides the swanky, celebrity-infested hotel, I got to go on a lot of walks and bike around Brookyln with friends. J was able to visit me for a few days too, but left days before a wonderful and unlikely dinner brought together six people I had know in Shanghai.


Windows.
April: New York, San Francisco
New York spilled over into April. During the last few days of the trip it was pretty mellow, so I went on epic walks and took a subway to the end of the line in Far Rockaway. Like many work trips, I had enough downtime to enjoy the place.


Walkway into the marsh.
Later in the month, V and I went to the real crooked street in town for the hilarious Bring Your Own Big Wheel Race. It was more like a mass, costumed crashing party than a race.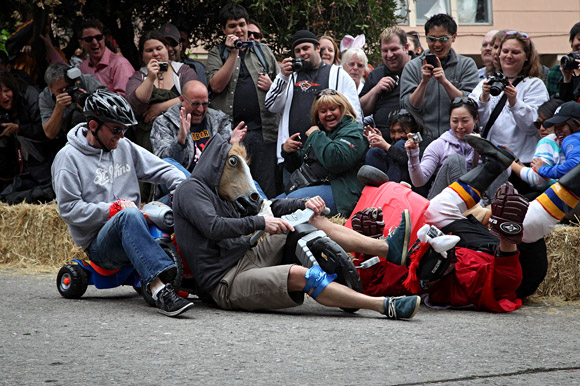 Surreal crash.


Biscotti made by a hottie.
J and I planted three tomato plants and built a trellis for them at our window. They began to thrive. Our strawberries weren't as vigorous.
May: San Francisco, Yosemite, Pt. Reyes
My mother and sister visited me for a long weekend. We took trips along the coast, enjoying the nice views, seafood, and company. We went riding pedal boats in Stow Lake, and I was able to show them a few of my favorite local restaurant with a gusto that only Bourdain could match.


Mother and sister on the other side of the bridge.
J and I went on a day trip to Yosemite with N and his friend to hike to the top of Yosemite Falls.


A view of the falls and Half Dome. Gorgeous.
V and I hiked the ten mile, elk-infested Tomales Point Trail while J worked at an Outstanding in the Field dinner.


Looking along the trail.
June: San Francisco, Lompoc
We drove five hours south to a friend's wedding in Lompoc. I was the best man, and I gave a pretty funny speech in my awkward grey suit.


Kids these days.


Jumping in love.
On the drive back, J and I celebrated our first anniversary at Treebones Resort. Our tent was pitched on a hill overlooking the ocean. Numerous cottontail rabbits came to visit.


The view from our tent.
July: San Francisco, Hendersonville, Guntersville
After numerous times serving at Outstanding in the Field events, J scored two tickets to a vegetarian dinner at a small farm in Brentwood. It was a long, relaxing, and healthy dinner in the fruit groves. My dentist was there.


Our vegetarian dinner table.
J and her siblings planned a "surprise" anniversary/birthday party for her parents in Hendersonville. The hot southern evening was host to friends, family, food, and memories.


Party view.
From the party, the core families drove south to a rental house in Alabama. It was on the marshy edge of a lake, and I enjoyed getting a tan and exploring the water by canoe. One night, I saw a massive amount of fireflies in the woods by the water's edge. They twinkled like a star field.


Morning fog and father-daughter canoe.
In July, I finally put up a photography "portfolio", and it started getting noticed. The recognition was an incentive to keep taking photos, even as my interest in blogging was clearly waning.
August: Mexico City, San Francisco, Los Angeles
For work, I went to Mexico City to shoot a commercial. Luckily J could come for the whole time, and we had a blast exploring as much of the place as we could during my moments of downtime. Highlights included the food, colorful streets, the boats of Xochimilco, massive Merced Market and feeling like we could live there.


Mariachi of Xochimilco.


Banana plants and corn.


The ornate stairs of the Palacio Postal in El Centro.
September: San Francisco, Los Angeles
Most of September was spent going to and from LA for post production for the spot shot in Mexico as well as some cheap, funny spots for a shoe company. I got to visit friends, enjoy a feast of backyard pomegranates, and get used to riding in cabs and submitting expenses.


Backyard pomegranates.
J and I visited our neighborhood Russian Orthodox Cathedral during a Taste of Russia. It was ornate and beautiful inside.


Looking at the altar and screen from the nave.
October: San Francisco
Some of the same friends I visited in LA visited us in SF. We biked, cooked food, played house variants of Catan, and tried to fit in my apartment.


Mangosteen. Expensive, but not duds. Brought me back to my Thailand days.
J, N, and I attempted to go to the free Hardly Strictly Bluegrass festival in Golden Gate Park. But it was hot, dusty, and crowded. After seeing Steve Earle and Dirty Three, I had my fill. During the first show, a gopher tried to burrow into J's butt.


Hardly Strictly Bluegrass crowds during Steve Earle.
One weekend, J and I scootered to the Marin Headlands, then around the Presidio. They are some of the prettiest places in town for those on two wheels.


J walking on a Goldsworthy in the Presidio.
November: San Francisco, Tokyo, Kyoto
For Thanksgiving, J and I went to Japan for two weeks. There was much walking, trains, and frustrating searches for food. Some of the highlights included the bustle of Tsukiji Fish Market, riding a bullet train, famous vermillion gates of Fushima-Inari Shrine, and biking around the river farms of Kyoto.


Slicing tuna like lumber.


Our first taste of the famous vermillion gates of Fushima-Inari Shrine.


J on a bike along the Katsura-gawa River Farms
December: San Francisco, Santa Fe
Unfortunately, after getting back from Japan I spent most of my time working crazy hours on a pitch. It wasn't fun.
J passed her last exam to become a licensed architect, and after the worst of work we drove north to Tomales Bay to celebrate. Our stop was Nick's Cove, a collection of bungalows and a restaurant along the bay. We ordered food from the empty restaurant and took it out to the empty boat house over the water. The waves and wind made it feel like we were dining on a boat.
For the holiday, we flew to Santa Fe to meet my parents and sister. We relaxed to puzzles, Catan, movies, and a variety of meals smothered in colorful chile sauce.


Stone crosses in Chimayo.


Rio Grande Gorge.


Luminarias: Christmas lights done right.
It's the last day of the year and our indoor tomatoes are still fruiting. Last year they died around October. I guess spent uranium has been a good amendment to the soil.
To finish the year, J and I tried four new things in town. On Saturday, we studied the permanent collection of the Legion of Honor Museum and ate a flavorful Moroccan-inspired dinner at Aziza. On Sunday, we took a trip to an ornate, domed Columbarium and a stroll around the labyrinths of Grace Cathedral. That evening, I also baked bread for the first time.
While this year didn't throw many surprises at me, it also wasn't part of the plan. I had no plan, and I don't for 2013 either.
But I think things are going to get shaken up pretty soon, whether by my hand or not. I'm not fearful. I like living in San Francisco with a wife I love and making the most of the things I'm privileged to see.
The uncertainty will hopefully lead to interesting adventures.