Work in the salt mines was hectic in its final, short week before the Chinese national holiday. Clients got cooky. The salt carts had to be rolled double-time. Tunnels collapsed. People counted down the days with increasing nervousness over deadlines that would have to be postponed for people to actually have a vacation. Everyone chatted about their intended destinations, shared cakes, and plans for the salt-free holiday.
W+K Shanghai distributed traditional Chinese moon cakes with a digital twist. The logo on both the box and the cake was detectable by webcam at http://www.wkshanghai.com/mooncake. A little rabbit with glasses (who looked suspiciously like one of the guys in the digital department) frolicked amongst a tree and some plants that moved in relation to the real cake. Little messages popped up, a reference to the secret messages that were passed in the original cakes many moons ago. These baked goods were large and tasty but had a funky smell on the outside. One of my coworkers found a hair on the bottom of his, and not a digital one.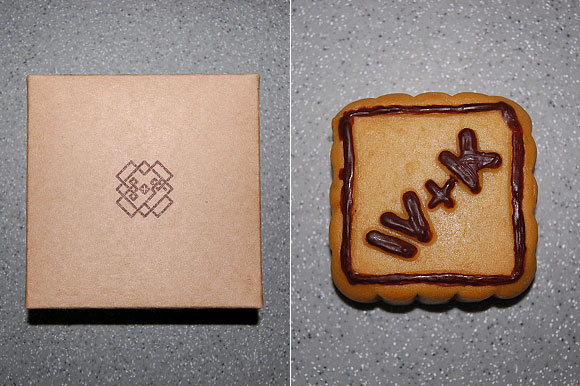 Wieden + Kennedy's augmented moon cake.


Hold up wither the cake or the box to your webcam at a special site…


…and see a little rabbit appear that tells you various little tips.
On Wednesday night, J. and I joined some co-workers for a good dinner at an informal restaurant called Di Shui Dong. Our food was served on a large glass lazy susan. Much beer was consumed, but not by me. Instead: coconut milk and herbal sweet beverage in red can from the southern region of this land of prosperity.


Spicy jellyfish salad and garlic mashed cucumbers at Di Shui Dong Restaurant.


Cumin ribs.


Dry fried chicken in chilies.


Tofu.


Eggplant.


Spicy fried rice.


River fish with underbite in sweet red sauce.


Chinese cabbage.


Orthodox coconut milk and herbal tea.


Glutinous sesame balls in slime.


Fried sliced banana in hardened syrup.
On Thursday, J. and I went out into the rain in search of pants, shoes, and other odds and ends. Our desitnation was the Brand Mall in Pudong near the Pearl Tower. I felt bad for all the tourists coming to town for the national holiday. All the decorations in the world couldn't stop the dreary, wet feeling around town. All day, the rain was light but steady and umbrellas were out in full force. Around the mall subway stop, an army of umbrella hockers tried their best sales pitches. But any sensible person had an umbrella already, so I'm not sure how successful business was.
The mall was crowded. I purchased a pair of leg covers with crotch, a futuristic gray cotton chest/back cover, and four paris of foot covers. I consumed a latte in a paper cup while watching the newly monied Chinese consume too. Sixty years of Communism later, and things looked pretty familiar to a Capitalist pig like me.


Temporary walkway in Pudong near the Pearl Tower.


A street sweeper tending to the overflowing gutters.


Umbrellas everywhere. It's like the "rain scene" of an adaptation of Alice in Wonderland I read once.


Man with umbrella.


Rain drops on the sidewalk.


Girl waiting in line for a taxi.
That evening, J. and I met a friend and his Danish belle near the Longhua Temple for a fireworks show. The event was actually four shows rolled into one, four times as long, four times as good. The rumor was that different nations were competing for the best display, but the order was unknown to us. The last batch was by far the best, but the bar was high. The last three sets we watched from a narrow bridge over an unused canal near the river. The mood was more contemplative then celebratory. People leaned against the railing, staring into the distant explosions as honking bikes and scooters tried to cross a clogged bridge barely wide enough for two walking abreast.

Prawns!


Longhua temple grounds.


Pagoda.


Dingy noodle shop.


A. and S. in front of Haibao.


Little shop.


Apartments along a stagnant canal.


Stone walkway on one side of the canal.


BOOM.


SHAKA.


LAKA.


Fire in the sky.


Watching from a narrow bridge over the canal.


Telephones.


Prayer shop.


A doorway lit by a single red bulb.
After the fireworks, one member of the party went into the rubble of an old marketplace to pee and witnessed a man taking a dump, unashamed, in the middle of the abandoned roadway. The dark, crumbling wreckage must have broadcast subtle lavatorial signals, a Siren's song to bowels passing in the night.
Dinner was Nepalese food at Nepali Kitchen.
J. and I went home to pack and sleep before our trip to Seoul, Korea.