"This is your captain. We are expecting a smooth ride, so sit back, relax, and slip into a sleepless uncomfortable zombie state in your cramped seat next to the lavatory. Weather in San Francisco is gay. Flying time from Shanghai will be a whole lot of hours."
I was heading home from China after ten months of adventure and hard work. It was both Tuesday and my 30th birthday.
That morning, I awoke at 8AM and packed the last of my things. The apartment was lifeless and barren, the same as it had been when I arrived and while living there. I waved goodbye to the groove I left in the couch, closed the door, and burned my key cards. I wouldn't be coming back. My friend A. arrived outside lobby of the hotel around 10AM in a taxi. We left for the Pudong Airport. We were on the same plane.
Business class on United isn't as classy as you'd expect. Sure, they have grey seats and champaign. The nuts are hot and salted. But the attendants looked world-weary and on edge. Legroom quickly diminished when people reclined to sleep. The configuration required tripping over my row mate and bumping the seat backs of the row in front to get out to the lavatory.
I decided to fly home on my 30th birthday in order to force myself to reflect on my past and future selves. But my thoughts during the long flight were more immediate: the past year in China and excitement over being home for the holidays. China hadn't been very easy or fun for a lot of it, but I still I had fond memories. Despite the uncertain future, I was glad to be coming back.
First impression of flying into the Bay Area: the air is crystal clear.
After clearing customs and saying goodbye to A. I found my connecting gate. After half an hour, our flight boarded. I sat, ready for the last leg of the trip to be over. But we stayed at the gate for an unusually long amount of time. The smooth, authoritative voice of the captain broke the mystery. During walk-around inspection, they had spotted a leak in one of the engines. It was being investigated.
Half an hour later, it was announced that it was a leak in a hydraulic line. It was being investigated further.
One hour later, we debarked the plane to wait for one without leaking hydraulics. After a gate change and another hour wait, we were on a new plane. All of our luggage was slowly loaded on. The plane started to taxi. The passengers let out a collective sigh of relief. We were on our way. The round, thick-ass vessel taxied to the row of planes waiting to takeoff at the runaway. But when it was our turn to fly, the plane started moving back to the gate.
"This doesn't seem right?" Read the expressions on the passengers' faces.
Our plane pulled up to the gate and the same pilot made another announcement. There were fault warnings that needed to be investigated.
Half an hour later, the faults were due to an oil leak in one of the engines. It was being investigated further.
Once again, everyone found themselves disembarking in San Francisco. The flight was cancelled.
In mass, the hundreds of people people on the flight were told to go to the customer service counters to rebook their flights. Some people hoofed it, others walked casually. I was in the middle of the pack and thusly in the middle of the epic line waiting at the counters. Onlookers regarded us as poor bastards or with curiosity. We were not a good ad for United.
The wait was around two hours. I made small talk with a grey haired couple in front of me. Since I had morning breath, I did my best to direct my "s" sounds away from them. They seemed nonplussed that I had come from China, possibly because they had come from Japan and regarded their travel situation as culturally superior. Regardless, I was fine to wait in line quietly as the mass of my luggage bore down on my sleepy knees. The people coming from the counters never looked happy and rumors spread down the line over what was happening. The atmosphere was like clueless cows heading towards slaughter.
"Moo. What's going on up there, Bessy?"
"Moo. I think we might have to be on standbye."
"Moo. I heard that the earliest they could get another cow to Dallas was the 24th."
"Moo. Will they comp our stables for the night?"
Six the next morning through Denver was the earliest flight I could get on. United provided hotel and dinner vouchers on the same cards boarding passes are printed on. I went out into the crisp San Francisco night to wait for the free shuttle to the hotel. An older couple to my right reminded me a little of my parents. I had nicknamed the man "Jingle Bells" as he had brought jingle bells onto the plane to add to the holiday mood. They were from North Carolina and were headed to Dallas to visit friends. I've never been to the Carolinas, I told them, though I'd heard it's nice over there. Oh it is, they replied. Jingle, jingle.
Behind me, a woman in a wheel chair was having a pretend conversation on a pay phone at the request of the teddy bear in her lap. The woman was wrinkled, heavily made up, and had stiff blonde hair. All of her clothes were black, including her mid drift shirt. Her overall appearance and random chuckles created a living version of Heath Ledger's Joker.
"Excuse me, do you know this area?" A large smiling black man in a trench coat asked. "I'm trying to head to the Castro tonight. Is it nearby?"
I told him that it was pretty far away and that the BART train would be the best and cheapest option to get there. We made some pleasant small talk about our travels and San Francisco. His mood was gay.
"I can't stay in the hotel all night. I need to get out and get some boo-tay." He laughed with a look of small town innocence.
The Castro was going to eat him alive.
I wished him well and boarded the shuttle bus.
Crowne Plaza Hotel was abandoned. I checked in and took my dinner voucher to the attached restaurant. Only four people were eating: an elderly couple, a dolled-up elderly woman eating alone at a booth, and another woman in her late 50s eating alone with a book. The host asked me if I wanted a table for one with a tone that indicated it was a common answer. He seated me right next to the woman with the book. I brought no reading material.
The waiter brought me my basket of warm bread (which I devoured) and dinner salad, then spent most of his time chatting with the woman at the booth. She seemed to be a regular of the place, which I found both confusing and sad. Nearby, the elderly couple ate their dinner without conversation. A variety of shopping bags were scattered around their booth.
I started talking to the woman next to me. We found common ground in Oregon. I had lived in Portland, she had in her past. She currently lived in MMMMMMMMedford. She apologized for her stuttering. A recent stroke had messed up her ability to say larger words. I was practically falling asleep as I sat in the empty restaurant eating salad and talking to the woman with the stutter. The evening had the murkiness of dream reality.
I crawled into bed and was sound asleep by 7PM.
I woke without the aid of an alarm at 3AM, in the shuttle by 4, at the airport at 5, and in the plane at 6. I was finally heading home. I hadn't expected to celebrate my 30th birthday alone with strangers from the airport, but it felt oddly fitting.
Some photos from the first few days back home:


Heading around the bend.


Kitten in a chair.


Under the oak tree.


Chicken tacos.


Kitten napping.


Pile of cats represents 50% of the Daum cats.


Pecan in car.


A light dusting of snow.


Frozen duck.


I'm dreaming of a white free throw.


Parents.


A reunion of two friends that go all the way back to first grade.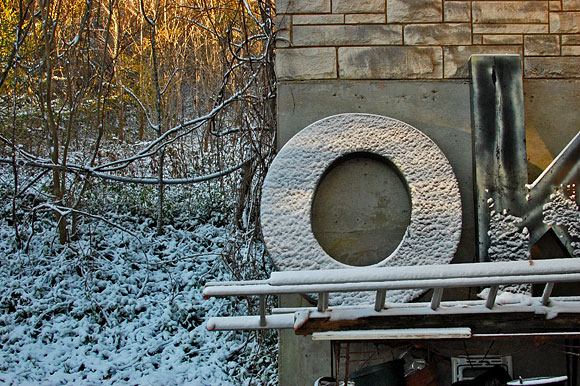 Frosted Os.


Mailbox.


Park and creek.


Plates at patchwork.


Dove.


Mantle.


Resting.


Christmas dinner.
I'm taking a break from blog posts until the new year. Until then, you suck.