Warning: The following is a high-quality DAUM-MEGAPOST™ containing over 105 photos from my trip to Montana and Wyoming. Be sure to click on the images to view the larger size.
THURSDAY
Last Thursday, J and I flew to Montana to surprise my grandmother, visit family, and enjoy the scenery.
Our turbo prop landed at the surprisingly empty and library-quiet Billings Logan Airport. The bright skies, heat, and lack of gangway made it feel like Hawaii.
My father was already waiting in a rental car. He drove north along the rural highway, gesturing with both hands as we rounded Dead Man's Curve, tailgating and passing a variety of much larger vehicles. His Montana driving matched my California nerves.
Fields of grass were endless green, and the big sky a perfect shade of blue. It's a vastness you can't feel anywhere near San Francisco unless you stare at the ocean.
We passed farms, through a fire-damaged valley, a freak rainstorm, and some rocky outcroppings festering with swallow nests.

The road to Flatwillow.


Freak downpour.
A few miles after Roundup we turned down Winnett Road, then again down a gravel road. We were in Flatwillow, a tiny town that was now not more than a couple weathered houses, farmland, a former post office now storing grain, and an events hall without bathroom.
The family ranch was farther down.

Entering Flatwillow.


Dirt road.


Christian Bales.


Flatwillow Hall.
We surprised everyone at the lunch table. Some had been expecting us later, others not at all.
After lunch, my uncle, J, a border collie named Flirt, and I walked around the ranch. I had only been there twice before, and not in over a decade. The buildings were more worn and empty of livestock, but they still felt brought back memories.
We walked into the vast grassy fields, across a barbed fence that tore the crotch of my pants, and up to the rocks of "Pikes Peak." There were no rattle snakes or ticks out yet, but plenty of small cacti.
On another hill, we discovered a rusty, overturned vintage car near the trash filled foundation of a house.
My great uncle zoomed up the hillside in a UTV. J took shotgun, while Flirt, my uncle and I climbed on the small truck bed.
A dusty backdraft dusted us as we went on a tour to check on watering holes and fences. Along the way, we saw three golden eagles keeping an eye on a large field of prairie dogs.

Literal truck trailer.


Seeder.


A pie this big.


Barn.


Older barn.


Even older barn.


J entering the endless field.


Thistle and ladybird.


J on Pike's Peak.


A car that crashed from space.


The family ranch buildings.


Riding on the UTV.


JJ explains the family branding irons near the branding table.
We swapped out the UTV for a car and drove back to Flatwillow. We walked amongst the family graves at the cemetery, and explored the dilapidated house near a knee-high field of family corn.
The sun set and the mosquitoes started to swarm. Even inside the car, they plinked against the windows. They knew we were in there, and were systematically testing the glass for weaknesses.

The Red House.


Flatwillow Cemetery.


Corn.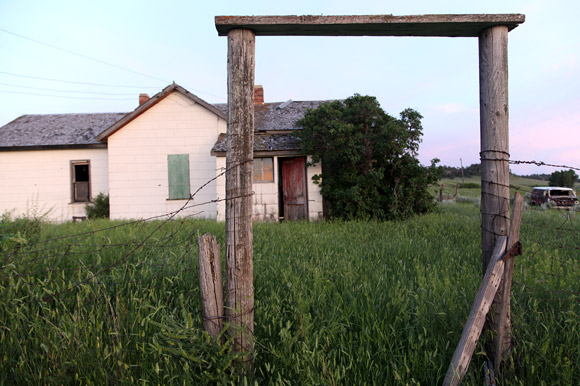 Abandoned house guarded by fierce mosquitoes.


Knee-high corn.
That evening, my sister arrived.
FRIDAY
After a endless stack of pancakes, my sister, J and I went for another walk around the ranch before ominous storm clouds started dumping rain. This time, a nameless border collie puppy followed us.

Bumper bugs.


Silo door.


Of course.


Future beef.


Sister.


A storm is coming.
When the rain cleared, my great uncle brought out an ATV with grain sacks for a seat. He showed me the controls, then my sister and I went off-roading. I tried to avoid big bumps and debris hidden in the grass. We covered a lot of the same ground from the day prior, except I didn't know where any of the gates were.
I swapped passengers for J and we drove through another field in search of edible mushrooms. Flirt hopped on the back too and joined us for the ride. I worried she would fall off, but the dog was a pro.
There were no mushrooms, so we drove a long loop around the cemetery, rim rocks, and the pastures of the neighboring ranches. The landscape felt even more vast on the ATV.

Cattle pointing their angus to the camera.


Fuel tanks.


Old bar in Winnett.


Another old building.


Hotel sign.


The church.


Soft grass.


ATV heaven.


The open road.


Endless in all directions.
The rides were one of the highlights of my life.
That afternoon some ribs were slung on the grill. Another great uncle arrived, and everyone caught up before dinner and cribbage.

Eighty candles.


Father of fire.
I lost too many games.
SATURDAY
Saturday morning we took one last walk around the ranch.

Where are we?


Old trailer.


Inside the old farm house.


Bookshelf.


Ancient attic boots.


Tool shed.


Hen house.
Then we drove back to Billings and checked into the tallest hotel in town. Family went between floors and rooms, visiting each other with the festive atmosphere of a dorm.
In the afternoon, everyone converged in the lobby to surprise my grandmother. I hadn't seen many of the people in over a decade, if ever.
We loaded into a color-coordinated chartered bus and were driven outside of town to an unassuming exit. Two men on horses were waiting to "hold up" the bus. One stayed on horseback while the other, named "Pappy", climbed aboard and began to ramble as the bus took us down a dirt road into the valley.
Pappy was eccentric in the wrong ways. His eyes sparkled with crazy as he spoke of his life as a former western stuntman: the celebrities he'd met, the parts he'd played, and the lessons he'd learned. He failed to explain why we should care.
In the valley by a creek, we ate a chuck wagon dinner of steak and sides. To drink: lemonade and the thinnest coffee this side of the Pecos.
After dinner, we sat in a fire circle while Pappy played an overlong set of songs on the guitar. I enjoyed it, but would have rather been free to converse with relatives without interrupting an amateur yodel.
The logs around the fire protected some primo speargrass.

Our hotel view.


Pizza truck.


Bus driver.


The holdup.


Color-coordinated bus.


Grandmother at the reigns.


The party planner.


Sisters.


J.


Fireside dance.


A little trouble with speargrass.


The goths.
SUNDAY
On Sunday we drove to my grandmother's house in Bozeman. We watched deer, magpies, and a black rabbit wander around her back yard.
Dinner: fresh-caught trout and vegetables from the garden.
Afterward, we enjoyed looking through photo albums and yearbooks from the 40s. Most of my relatives came from small neighboring towns, and the yearbooks were dense with familiar names.
That evening, we relaxed in a hot tub.

Greenhouse.


The semi-feral rabbit.


Birdhouses in your soul.


Walking along the fence in search of a baby deer.


Sunset.
MONDAY
"Chirp-chirp-chirp," chirped the little birds outside our window at 5:30AM.
On Monday morning, we said our goodbyes and left Bozeman for Yellowstone National Park. Our route took us down Gallatin Road through the river valley to West Yellowstone. We bought groceries, paid our way through the gate traffic and entered the relatively uncrowded park.
Yellowstone was full of beautiful meadows, forests, alpine lakes, roaring streams, and sulfurous geothermal activity. We drove westward to Madison then south to Old Faithful. We ate a picnic lunch in the shade while waiting for it to blow.

The good era of motel signs.


Seems safe.


A lone charred trunk.


Fly fishing.


J at the river.


Bacteria mat.


Geothermal pool.


Sputtering paint pots and bison manure.


Scalding mud.


Great Fountain Geyser.


Stream.


Sapphire Pond.


Clichéd photo of Old Faithful.


Inside the massive Old Faithful Lodge.
"Is that it?" asked a twerp before looking back to his iPod Touch. Kids these days…
After crossing the Continental Divide, we followed the shore of Yellowstone Lake to our bed for the night at the Yellowstone Lake Hotel. J had scored a last-minute, though expensive, remodeled room in the original building. It was suite.
We played cards while overlooking the lake from out window, then went downstairs for a beef-based dinner served by college-aged seasonal workers from all over the country.

Yellowstone Lake.


Lake Hotel.


Cabins.


Our expensive bedroom view.
I went to bed thinking I was on production in LA.
TUESDAY
I slept like a log until 8:30.
Not having seen wildlife on Monday, we woke to find bison and calves wandering all around the lake.
We saw even bigger herds in Hayden Valley as we drove north to the park's grand canyon. The waterfalls were full of snow melt, and the spectacular view of the lower falls drew a crowd.
The variety and beauty of the scenery was impressive. By afternoon, I had begun to feel jaded. The high altitude sun was making me delirious and lazy too, so I holstered my camera and recorded the rest of the park in my mind.

Bug on a thistle.


Walking towards the Le Hardys Rapids.


A massive trout rests at the edge of the rapids.


A cluster of caddisflies.


A baby bison.


Big daddy.


Blue skies.


Lower Falls.


The cliff.


Colorful.


Lillys.


Meadow view.


Geothermal bloom.


Micro terraces.


Mammoth hot springs upper terrace.


Another view.
On the way out of Yellowstone, we saw elk. Osprey fished in the river.
We arrived in Livingston in the early evening and drove around to admire the small town atmosphere. People sat on porches, rode bikes. J jinxed a young boy into crashing his bike and scraping his knee.
These Livingstonians trusted each other enough to not lock their doors or roll up their windows and were ripe for the plucking. But instead of Bonnie and Clyde mayhem, J and I sat on the banks of the Yellowstone River and watched the cottonwood drifting into our noses.
That night, I made a bad dessert decision.

Americana in Livingston.


Skate park.


Yellowstone River.


A lone boater.


Western Drug.
WEDNESDAY
For our last day in Montanta, I was a wreck.
Between the DQ dessert expanding in by belly like Violet Beauregarde and the intermittently roaring air conditioner, I couldn't sleep.
Luckily, J was motivated enough to take the scenic route to the airport. From Big Timber we took backroads to Harlowton then across to Lavina. The majestic abandoned buildings were a reminder of the towns' glory days.
We got to Billings early, so we parked the car on the northern overlook and I rested my eyes in the afternoon heat.
The airport was even more quiet. One wing and its men's room was completely empty. The status screens were showing Dewey decimals.
For an hour, the only planes taking off were private props.
We arrived back in San Francisco without crashing.
I was sad to leave Montana, but happy to sleep soundly in my own bed under the fog.